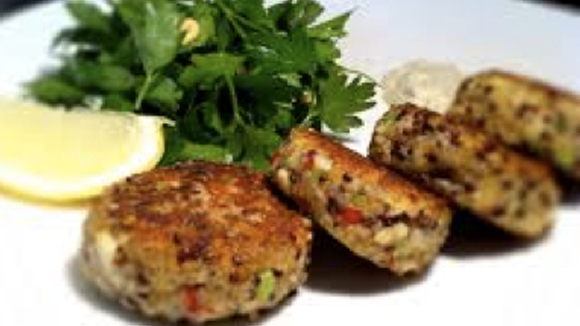 Spicy red tilapia fish cakes
Make the most of fresh fish and experience the sunny flavors of west Africa
Recipe serves:

4

Preparation time

4 min

Cooking time

20 min
Ingredients
1 clove garlic
2 cm piece fresh ginger, chopped
1 ½ tsp paprika
½ Scotch bonnet chili
1 pinches all-purpose seasoning, (available from Asian/African stores)
½ tsp rock salt
400g white puna yams, peeled and roughly chopped
250g fillets of red tilapia, skinned and all bones removed
285 ml milk
1 bay leaf
2 spring onions, finely chopped
2 large eggs, lightly beaten
220 g breadcrumbs
2 red onions, finely chopped
Sunflower oil, for frying
2 Royco Beef Cubes
Method
Combine the Royco Beef Cubes, ginger, paprika and chili and all-purpose seasoning into a food processor and blend to a paste.
Bring a pot of water to the boil with the rock salt and cook the yam for 10 minutes, until tender.
Drain, then roughly mash up with a potato masher.
In a small pan, poach the tilapia in the milk and a bay leaf and a pinch of all-purpose seasoning for 5-8 minutes
When the fish is cooked through, take off heat to cool. Flake the fish into a separate bowl.
Add the spring onion, fish and the mixture from the food processor to the bowl of mashed yams.
Mix well and season to taste.
In a separate bowl beat together the eggs and a splash of milk.
Heat a generous amount of oil in a large frying pan over a medium heat.
Wet your hands and shape the fish mixture into patties.
Coat in the egg mixture, then breadcrumbs and fry, in batches, until golden, crispy, and cooked through, (about 2-3 minutes per side).
Remove and drain on paper towels.