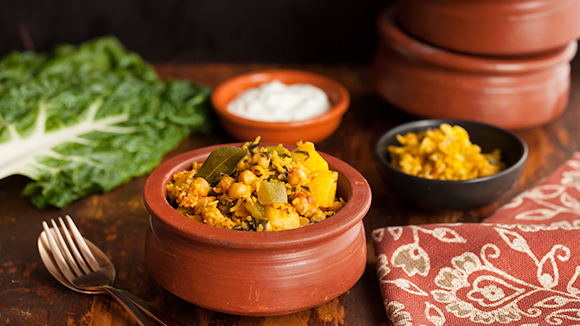 Vegetables and chickpea breyani recipe
This dish is a delicious combination of rice, chickpeas,with vegetables and of course spices. This is a great, hearty, and healthy meal. This is a on dish and one pot meal.
Recipe serves:

3 to 6

Preparation time

0 min

Cooking time

30 min
Ingredients
1 cup rice (preferable basmati rice)
400g chickpeas canned or cooked
1 potato medium size peeled and cubed bite size pieces will make about 3/4 cup
2 tomatoes medium size chopped will make about 1-1/2 cup chopped tomatoes
3 cups of chopped fresh spinach
1 cup bell pepper cubed in bite size pieces
3 tablespoons oil
1 teaspoon cumin seeds
1/8 teaspoon asafetida
1 tablespoon ginger finely shredded
1 bay leafs
1 green chili finely chopped
Salt to taste
½ teaspoon mango powder
¼ teaspoon turmeric
1½ cups water
¼ teaspoon garam masala
2 Royco Beef Cubes
Method
Wash and soak the rice in about 2 cups of water at least for 10 minutes.
Drain the liquid out of the can of chickpeas and wash the chickpeas well.
Heat the oil in a saucepan.
Test the heat by adding one cumin seed to the oil; if seed cracks right away oil is ready.
Add cumin seeds as seeds crack add Ginger, Royco Beef Cubes, and green chili, stir for few seconds.
Add tomatoes and salt cook until tomatoes are tender, about 2 minutes.
Add chickpeas and potatoes after it comes to boil cover the pen and let it cook for about 8 minutes over medium low heat, stir occasionally.
Add rice, spinach, bell pepper and water.
Mix and bring it to boil.
Cover the pan and let it cook for about 12-15 minutes over low heat.
Dont stir the rice in between they will get mushy check the rice in about 12 minutes.
Cook Pulav until the rice is tender and the water has evaporated.
When Pulav is ready add mango powder and garam masala mix gently.
Serve alone or with side of yogurt or pickle if you want to spice it up more.