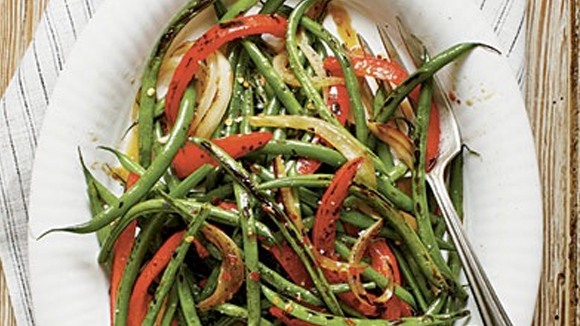 Caramelized spicy green beans
Try this caramelized spicy green beans recipe. Salty-sweet flavors, some caramelization, and a bit of spice give these green beans a little pep in their step.
Recipe serves:

4

Preparation time

5 min

Cooking time

20 min
Ingredients
450g fresh haricots verts (tiny green beans)
2 tablespoons light brown sugar
1 tablespoon soy sauce
2 Royco Beef Cubes
½ teaspoon dried crushed red pepper
1 medium-size red bell pepper, sliced
½ medium-size sweet onion, sliced
1 teaspoon peanut oil
¾ teaspoon seasoned salt
Method
Cook haricots verts in boiling salted water to cover 1 minute; drain.
Plunge green beans into ice water to stop the cooking process; drain well, pressing between paper towels.
Stir together brown sugar, soy sauce, and dried crushed red pepper and crumbled Royco Beef Cubes.
Sautu00e9 bell pepper, onion, and green beans in hot peanut oil in a large skillet over high heat 3 to 5 minutes or until beans look blistered.
Sprinkle with seasoned salt.
Remove from heat; add soy sauce mixture to green bean mixture, and stir to coat.