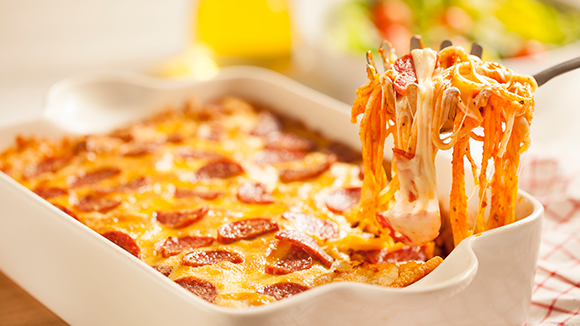 Pizza spaghetti casserole
Need a recipe for dinner? Try this pizza spaghetti casserole recipe - it makes a wonderful alternative to ordinary spaghetti.
Recipe serves:

9

Preparation time

15 min

Cooking time

15 min
Ingredients
12 ounces uncooked spaghetti
1/2 teaspoon salt
1 (1-lb.) package mild ground pork sausage
2 ounces turkey pepperoni slices (about 30), cut in half
1 (26-oz.) jar tomato-and-basil pasta sauce
1/4 cup grated Parmesan cheese
1 (8-oz.) package shredded Italian three-cheese blend
Method
Cook spaghetti with 1/2 tsp. salt according to package directions.
Drain well, and place in a lightly greased 13- x 9-inch baking dish.
Brown sausage in a large skillet over medium-high heat, stirring occasionally, 5 minutes or until meat crumbles and is no longer pink.
Drain and set aside.
Wipe skillet clean.
Add pepperoni, and cook over medium-high heat, stirring occasionally, 4 minutes or until slightly crisp.
Top spaghetti in baking dish with sausage; pour pasta sauce over sausage.
Arrange half of pepperoni slices evenly over pasta sauce.
Sprinkle evenly with cheeses.
Arrange remaining half of pepperoni slices evenly over cheese.
Cover with nonstick or lightly greased aluminum foil.
Bake at 350 for 30 minutes; remove foil, and bake 10 more minutes or until cheese is melted and just begins to brown.