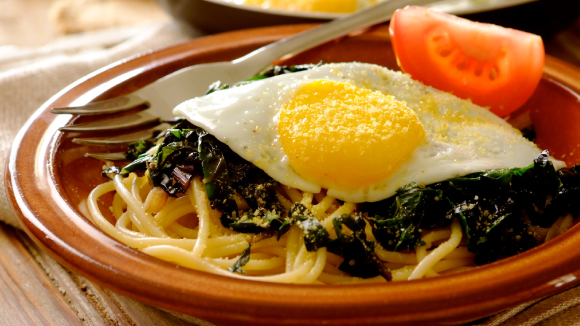 Spaghetti With Eggs On Spinach
A quick and easy mean that your family and friends will adore.
Recipe serves:

6

Preparation time

15 min

Cooking time

20 min
Ingredients
1 large bunch spinach
4 tablespoons Blue Band Margarine
Aromat Original to taste
250g spaghetti
6 eggs
Oil to fry
Method
Wash the spinach well and chop coarsely.
Place in a large saucepan with a little water and steam the spinach until tender, then drain well.
Add half the margarine to the spinach and season with Aromat Original.
Boil the spaghetti until soft, then drain well and add the remaining margarine.
Fry the eggs in a little oil to your liking.
To Serve divide the spaghetti and spinach between 6 serving bowls and top with the fried eggs.
Season once more with Aromat Original and serve.