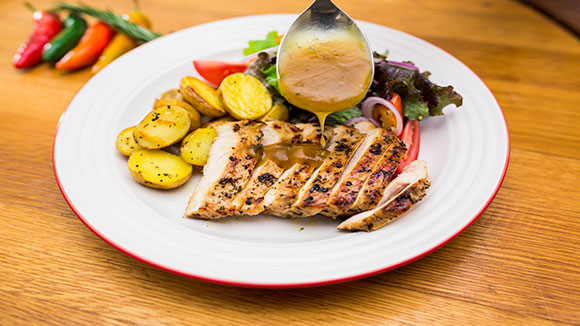 Spicy Grilled Chicken
Spicy or not, the chicken comes alive with the flavourful restaurant style gravy .
Recipe serves:

3

Preparation time

5 min

Cooking time

10 min
Ingredients
4 Chicken Breast
Salt
Robertsons Black pepper
Dried Chili flakes
Fresh Rosemary(chopped small)
Knorr Roast Chicken Gravy.
Method
Season the chicken with the salt, pepper, chili flakes and rosemary, one side at a time.
Heat a non stick pan or grill pan and drizzle with little oil. Place the chicken breast on the very hot pan and listen out for the sizzle when placing the chicken pieces.
Allow to cook on one side for about 4 minutes then turn to cook on the other side.
Reduce the heat to medium after the chicken is nice and brown so that it also gets time to cook on the inside.
The chicken is ready when the liquid coming out is not pink. Try not to overcook the piece by leaving it too long on the pan. Slice the breast pieces and serve with roast potatoes and a side salad or an accompaniment of your choice.
For the gravy preparation, follow the package instructions and pour on top of the chicken when serving.