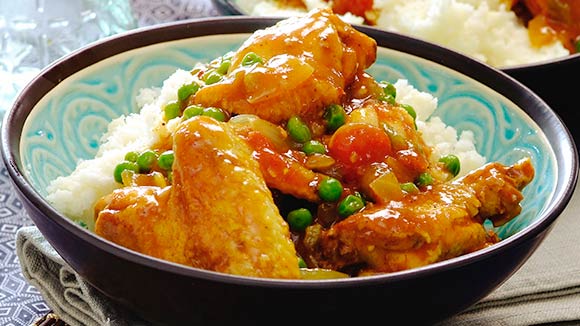 Sweet And Spicy Chicken Curry
Simple and delicious chicken recipes are always a winner when it comes to whipping up scrumptious meals for family and friends. Quick and easy dinner dishes simplify life, especially after a long and busy day. Follow these step by step instructions and you're sure to have your loved ones smiling from ear to ear.
Recipe serves:

4

Preparation time

15 min

Cooking time

60 min
Ingredients
3 Tbsp. (45 ml) cooking oil
1 whole chicken, cut into portions
1 onion, chopped
1 red or green pepper, chopped
2 garlic cloves (sliced)
1 -2 fresh green or red chillies, chopped
2 Tbsp. (30 ml) curry powder
2 Tbsp. of Chicken Royco Mchuzi Mix
1 x 410 g tin tomatoes, chopped (or 3 large tomatoes)
1 cup (250 ml) water
¼ cup (125 ml) apricot jam
1 cup (250 ml) frozen peas
½ cup (125 ml) freshly chopped dhania (optional)
Method
Heat the oil in a large saucepan. Brown the chicken pieces a few at a time. Remove the chicken from the pan and fry the onions, green pepper, garlic and chillies until soft.
Add the curry powder and fry for a minute.
Return the chicken pieces to the saucepan; add the tomatoes, water and jam. Stir well, cover and let it simmer for 45 minutes to 1 hour or until the chicken is cooked through.
Dissolve the Royco Mchuzi Mix in a little cold water and add to the stew. Add the frozen peas and cook for a further five minutes until heated through.
If you've opted to add fresh dhania to your dish, stir it in and serve.
This delicious and fragrant Sweet and Spicy Chicken Curry can be served with a generous helping of ugali, pasta or rice.
For a tasty assortment of quick and easy dinner recipes, click here.