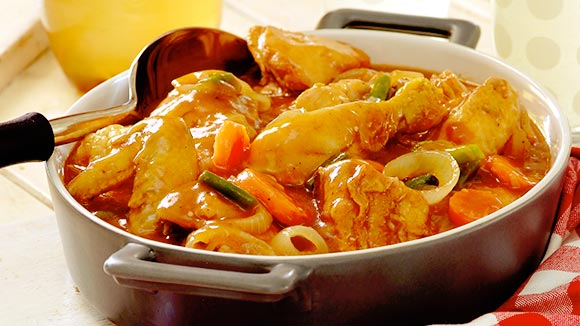 Ginger Beer Chicken Stew
Ideal for festive family dinners, this Ginger Beer Chicken Stew is packed with a variety of delicious flavours. It's sure to become a favourite among your chicken recipes. If you're looking for quick and easy recipes, why not try out this delicious dish?
Recipe serves:

4 to 6

Preparation time

15 min

Cooking time

40 min
Ingredients
1,5 - 2 kg chicken pieces
2 Tbsp. (30 ml) oil
2 onions cut into rings
2 cups (500 ml) ginger beer
2 cups (500 ml) water
3 garlic cloves
1 packet Knorr Mushroom Dry-Cook-in Sauce
2 Tbsp. (30 ml) tomato sauce
2 Tbsp. (30 ml) chutney
2 cups (500 ml) frozen mixed vegetables
Method
Brown the chicken pieces in oil. Next, add the onion and garlic and fry until soft.
Combine the ginger beer, water, dry-cook-in sauce, tomato sauce and chutney. Pour over the chicken. Cover with a lid and simmer gently for about 30 minutes or until the chicken is cooked through.
Add frozen vegetables and heat through for another 10 minutes to allow the sauce to thicken.
Serve with mashed potato or rice.
If you're looking for some culinary inspiration, sign up to join the WHATSFORDINNER community and receive recipes, cooking tips and menu ideas. Click here for more information.