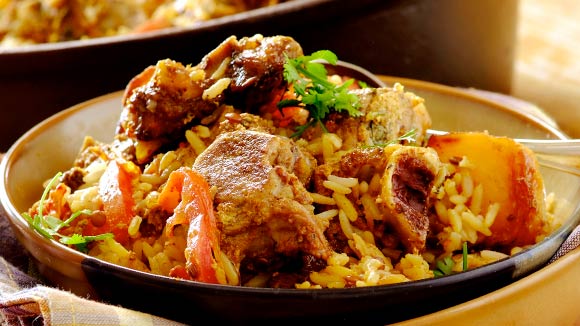 Spicy Mutton Biryani
Delicious and full of flavour, this Spicy Mutton Biryani is one of those lamb recipes that are sure to make your mouth water. Quick and easy to prepare, this recipe is ideal for wholesome and hearty family dinners.
Recipe serves:

6 to 8

Preparation time

20 min

Cooking time

120 min
Ingredients
1 kg mutton
500 ml yoghurt
1 bunch dhania, chopped
3 Tbsp. (45 ml) Curry Powder
1 Tbsp. (15 ml) Paprika
Robertsons Atlantic Sea Salt to taste
4 green chillies
1 onion, chopped
6 potatoes cut in half
2 tomatoes, thickly sliced
2 cups (500 ml) rice
½ cup (125 ml) lentils
1 cup (250 ml) water
Method
Mix the mutton with yoghurt, dhania, curry powder, paprika and green chillies, and set aside to marinade. Season with salt to taste.
Fry the onion in a small amount of oil until soft, remove from the pan and then fry the potatoes until browned.
Pre-boil the rice and lentils.
In a large, ovenproof dish, place half of the cooked rice and lentils at the base of the dish, then layer the tomatoes, onions, meat mixture, potatoes and, lastly, put the remaining rice on top. Pour 1 cup of water over the dish.
Cover with a well-fitting lid or with foil. Cook at 180 degrees Celsius for 1 – 1½ hours or until the meat is tender.
Stir the pot to mix ingredients before serving.
If you feel like you're running out of ideas for quick and easy dinner recipes, why not sign up to the WHATSFORDINNER community? Receive meal ideas, exclusive recipes and cooking tips for delicious family dinners. Sign up here.