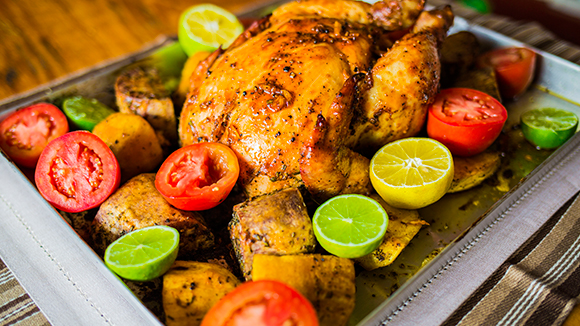 Golden Whole Roast Chicken
The lovely blend of sweet and sour flavours infused with fragrant spices makes this Whole Golden Roast Chicken the winner of our chicken dinner recipes . Paired with vegetables and the flavoursome Royco Mchuzi mix, this delicious chicken can be enjoyed as a great Sunday roast or any time you need an easy, tasty meal.
Recipe serves:

6

Preparation time

150 min

Cooking time

120 min
Ingredients
1 large chicken (broiler)
2 Tbsp. (30ml) of the chicken flavoured Royco Mchuzi Mix 4 cloves garlic, crushed
2 Tbsp. (30ml) honey
Juice of 1 lemon
1 tsp. (5 ml) paprika
1 tsp. (5 ml) salt
2 tsp. (10 ml) black pepper (coarsely crushed)
For vegetables
2 sweet potatoes
2 arrowroots
2 tsp. (10 ml) rosemary leaves
2 tsp. (10 ml) thyme
1 Tbsp. (15 ml) melted Blueband margarine
Equipment
Basting brush
Aluminium foil
Roasting tray
Oven
Method
First prepare the chicken. Chop off the neck at the base and remove the giblets. Wash and pat dry with a clean kitchen cloth.
Place the Royco, garlic, honey, lemon juice, salt and paprika in a bowl. Mix into a smooth paste. Brush the whole chicken generously with the mixture, including the inside of the cavity. Set aside for 2 hours or allow to marinate for 1 day in the fridge.
Preheat your oven to full heat. Truss the chicken and place it in the roasting tray.
Place the vegetables in a bowl. Add rosemary, salt, pepper and thyme. Drizzle with the melted Blueband margarine. Toss and arrange the coated vegetables around the chicken.
Cover the whole tray with foil. As soon as it goes in the oven, turn the heat down to 180ºC/350ºF/gas 4. Cook for 2 hours or until the juices run clear. Check and baste your chicken with the juices from the pan every 30 minutes to keep it from drying out. After 1½ hours, remove the foil to allow direct heat so that the skin gets golden and crispy.
Remove from the oven and allow to rest for 20 minutes before serving. Serve with a side salad.