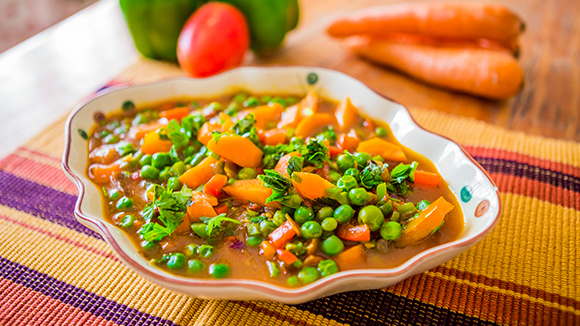 Simple Mixed Vegetable Stew
This is one of the best loved vegetarian recipes ideal for weaning us off of the meat binge that we all enjoyed over the festive season. The great news is that the dish also keeps well in the fridge. Why not make the meal in bulk and save plenty of time the next time that your family is overcome with a hunger that only stew can satisfy!
Recipe serves:

6

Preparation time

20 min

Cooking time

30 min
Ingredients
2 Tbsp. (30 ml) of oil
2 onions, chopped
3 tomatoes, pureed
3 carrots, finely cubed
1 tsp. (5 ml)of turmeric
2 cups (150 g) of boiled garden peas
1 large green pepper
1 large yellow pepper
2 tsp. (10 ml)of Royco Mchuzi Mix (chicken variant)
Salt to taste
1 small bunch of dhania, chopped
Method
Heat the oil in a pan. Add the onions and cook until browned.
Add the tomato puree, carrots and turmeric. Cook until dark red and saucy.
Add the peas, as well as the green and yellow peppers. Sprinkle in the Royco Mchuzi Mix and season with salt. Add the water and simmer for 20 minutes or until a thick stew remains.
Finally, add the chopped coriander and mix well. Serve hot with rice or chapati.
For more simple stew recipes just like this one, click here.