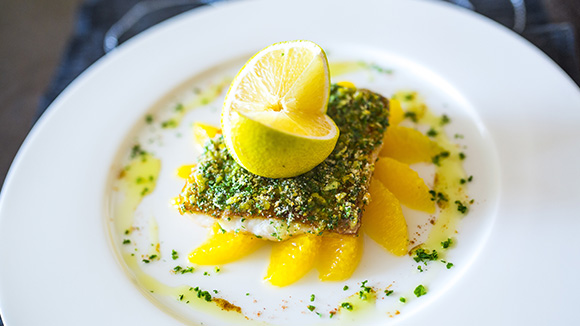 Pan Seared Nile Perch With A Citrus Crust
Add more flavour to your pan fried fish fillets with a delicious citrus crust. The great news is that this crust can be used on any type of fish. Try it today and watch how your family smiles from ear to ear.
Recipe serves:

4

Preparation time

5 min

Cooking time

20 min
Ingredients
4 pieces of medium sized Nile perch. (fillets).
2 Tbsp. of (30 ml) Royco Mchuzi Mix
3 Tbsp. (45 ml) of fresh chives and dhania (finely chopped)
1 Tbsp. (15 ml) of orange zest
1 Tbsp. (15 ml) of lemon zest
Oil for frying
Method
Season your fish well with salt and pepper.
Add some oil to a very hot, non-stick pan. Just when the oil begins to smoke, put your fish in the pan, skin side down. Do not overcrowd the pieces or they will not brown. Do a few at a time if you must.
Reduce the heat and keep cooking on just this one side until the fillets are golden brown and crisp.
Meanwhile, mix the Royco Mchuzi Mix, fresh herbs, and the zests together and set aside.
Once the fish is cooked on this side, flip over on a baking tray and sprinkle generously and evenly with the zesty spice mix.
Fish off in the oven until the other side is fully cooked., This will take approximately 5 minutes depending on the thickness of your fillets.
Serve immediately on top of an avocado and orange salsa or with a side of your choice.
Chef's Tip:

If you do not have an oven, you can finish cooking the other side of the fish in the same pan by flipping it over and then sprinklinge on the mixture. Cooking in the oven, however, will give you two different textures of crispy on one side, and moist on the other. For more delectable, quick and easy recipes just like this one, click here.