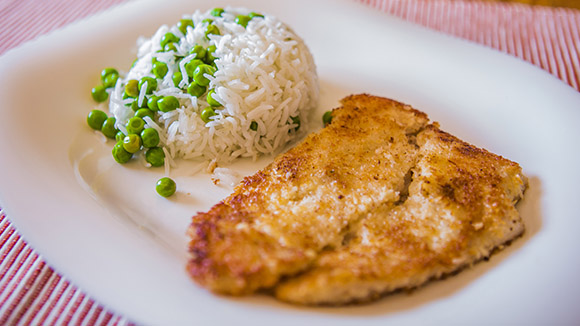 Marinated Fish Fillet with Coconut Crust
This is one of those fish recipes that effortlessly pack natural flavour into the fish fillets. The result is a moist and flaky fillet with just the right amount of crunchy coating. Not only is it delicious, it is also an incredibly simple recipe to prepare, requiring just 35 minutes of your day. Give it a try and it will soon become a firm family favourite, occupying a weekly spot on your dinner table.
Recipe serves:

2

Preparation time

15 min

Cooking time

20 min
Ingredients
2 pieces of fish fillets
1 large onion, roughly chopped
2 sticks of celery, roughly chopped
1 tsp. (5 ml) of Royco Mchuzi Mix
Juice and zest of 2 limes
Salt to taste
2 eggs
2 cups of desiccated coconut
4 Tbsp. (60 ml) of oil for shallow frying
1 packet of Knorr Three Cheese Sauce
1 small bunch of parsley, finely chopped
Method
Wash the fish fillets while pressing down with your fingers to check for any pin bones. If there are bones present, pull them out with tweezers. Pat dry with a clean piece of kitchen towel.
Place the onion, celery, as well as the juice and zest of the limes into a blender. Process into a chunky paste. Place inside a bowl and add the Royco Mchuzi Mix. Mix well.
Season the fillets with salt. Brush both sides of each fillet generously with the blended mixture and place in the fridge for 10 minutes.
Break and whisk the eggs into a separate bowl. Drain the fillets of excess marinade and dip first in the egg, then in desiccated coconut, ensuring a thorough coating of both.
Heat the shallow frying oil in a wide, non- stick pan. Fry the fillets on a medium heat for five minutes on both sides until lightly golden. To check for readiness, flake the fish with a fork. If it flakes easily and the meat is white, the fish is ready.
Meanwhile, prepare the three cheese sauce according to the instructions on the packet. Add chopped parsley and stir. Serve the sauce in small bowls.
Serve the fish hot with rice and spinach or with a salad. Drizzle the sauce onto each serving.
For more fish recipes that are as delicious as they are simple to make, click here.