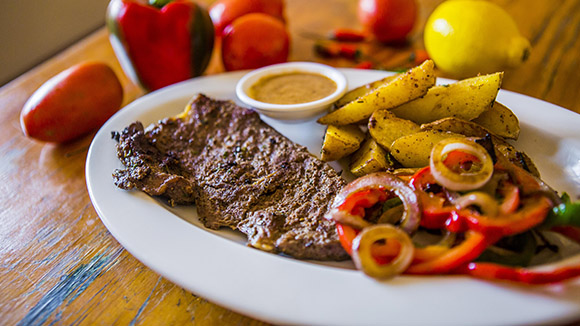 Pan Fried Pepper Steak Served with Potato Wedges
Beef recipes always turn out to be firm family favourites. Succulent, tasty and memorable – nothing beats a traditional steak. For this beef recipe, a good, soft steak is recommended. If such a steak is not available, add one teaspoon of meat tenderiser to the marinade and marinate overnight.
Recipe serves:

4

Preparation time

180 min

Cooking time

30 min
Ingredients
1 kg of beef fillet steak, cut into 4 thick slices
5 Tbsp. (75 ml) of cooking oil
2 tsp. (10 ml) of garlic powder
1 tsp. (5 ml) of ground black pepper
2 tsp. (10 ml) of fresh rosemary leaves, finely chopped
Salt to taste
3 medium onions, sliced round
1 red capsicum, sliced round
1 green capsicum, sliced round
For the sauce:
1 Tbsp. (15 ml) of Royco Mchuzi Mix
1 1/2 cups (375 ml) of water
1 cup (250 ml) of whole cream
Salt and pepper to taste
To serve:
3 bunches of spinach, shredded and steamed
Potato wedges (skin on)
Method
Place the steaks inside a heavy polythene bag and beat with a mallet or rolling pin. Place the oil, Royco beef cubes, garlic powder, black pepper, rosemary and salt to taste in a bowl. Mix well.
Remove the steaks from the bag and soak them well in the marinade. Set aside, covered, for at least 2 hours or preferably overnight in the fridge.
Place the steaks, (cook a few at a time), into a pan or a grill and cook on a high heat, turning occasionally until browned and cooked to your liking.
Add the capsicum and onions to the meat. Cook for two minutes, turning occasionally until the vegetables wilt. Serve on a platter.
To make a sauce, mix the Royco Mchuzi Mix with the water. Pour the mixture into the same pan that fried the meat. Scrape off any bits that have stuck to the pan as you stir. Simmer until reduced and add whole cream. Stir and season with salt and pepper.
To serve, place a small heap of steamed spinach onto a heated plate. Top it with a piece of steak and drizzle the sauce on top. Finish with a few potato wedges on the side.
For more easy and tasty beef recipes like this one, click here.