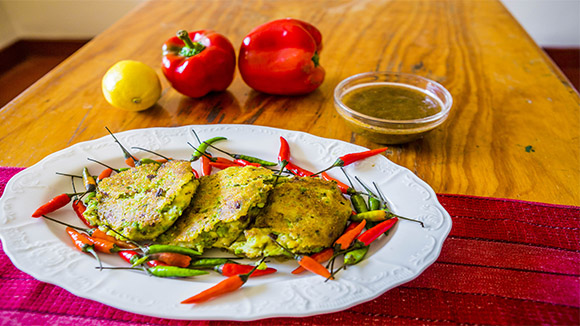 Vegetable Love Cakes with a Sweet and Sour Sauce
Many people think that vegetarian recipes are bland and unappetizing. Well, think again! These vegetable love cakes are mouth-wateringly delicious and very easy to make. They are ideal as a packed lunch for the kids – a packed lunch that will never be thrown in the bin!
Recipe serves:

6

Preparation time

10 min

Cooking time

20 min
Ingredients
6 large potatoes, boiled
2 cups of garden peas, boiled
2 onions, finely chopped and fried to golden brown
2 garlic cloves, crushed
1 tsp. (5 ml) of dried (or fresh) oregano
1 tsp. (5 ml) of dried (or fresh) rosemary
2 Royco beef cubes, crushed
1 tsp. (5 ml) of black pepper
Salt to taste
Oil for shallow frying
For the sauce:
1 leek or white onion, roughly chopped
1 bunch of dhania (coriander), roughly chopped
5 Tbsp. (75 ml) of ketchup
2 Tbsp. (30 ml) of lemon juice or white vinegar
2 tsp. (10 ml) of sugar
1 small red chilli, finely chopped
Method
While still hot, place the boiled vegetables in a bowl and mash until smooth.
Add the fried onions and garlic. Place the dried oregano and rosemary in a mortar and pestle, crush lightly to release the flavours and then add to the mixture. Crush the Royco beef cubes into the bowl and add, season with salt and pepper. Mash the mixture once again until all of the ingredients are well combined.
Form the mixture into eight heart- shaped patties using a biscuit cutter. Heat the oil in a wide pan. Place the patties, a few at a time, and cook on a medium heat, until golden brown on both sides.
To make the sauce, place the leek, dhania, lemon juice and chilli in a blender and process to form a chunky paste. Empty into a small bowl and add the sugar and ketchup. Mix until the sugar dissolves.
To serve, place patties on a platter and top with a tablespoon of sauce.
For more vegetarian recipes just like this one, click here.