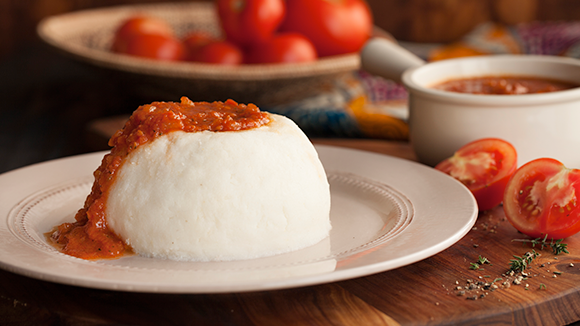 Royco Tomato Sauce Served with Ugali
This sauce is as delicious as it is versatile and can be served not only with ugali, but spaghetti, chapati, mashed potatoes and rice too. If you make extra, you can store it in the fridge and use it when whipping up easy recipes [Link to: /recipes] that require a tasty sauce accompaniment.
Recipe serves:

4

Preparation time

30 min

Cooking time

15 min
Ingredients
2 Tbsp. (30 ml) of margarine
2 onions, finely chopped
3 cloves of garlic, crushed
8 ripe tomatoes, blended
1 Tbsp. (15 ml) of Royco Beef Mchuzi mix
1 cup (250 ml) of water
1 tsp. (5 ml) of dried basil
1 tsp. (5 ml) of dried thyme
1 tsp. (5 ml) of paprika
2 Tbsp. (30 ml) of white vinegar
2 Tbsp. (30 ml) of sugar
1/2 tsp. (2,5 ml) of salt
1 tsp. (5 ml) of black pepper
Serve with: Ugali
Method
Melt the margarine in a pan and add the onions. Cook the onions, stirring constantly until soft.
Add the garlic and cook until the aroma presents, then add blended tomatoes. Stir and bring to a boil. Reduce the heat to medium and simmer until reduced and dark red.
Add the water, Royco Mchuzi mix, basil, thyme and paprika. Stir and simmer for 5 minutes.
Add the vinegar, sugar, salt and black pepper. Stir on a low heat until the sugar dissolves.
Serve with ugali or another starch dish of your choice. This sauce also works well in a variety of different pasta recipes.