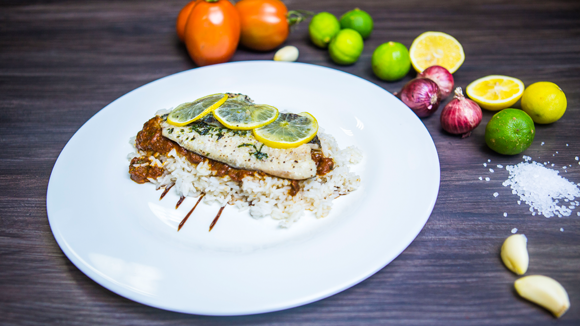 Foil Baked Tilapia in Swahili Spiced Passion-Tomato Sauce
Fish fanatics will find these foil baked Tilapia hard to resist with the added flavour of tomato sauce.
Recipe serves:

1

Preparation time

20 min

Cooking time

25 min
Ingredients
Sauce
2 tbsp. vegetable oil
1 tbsp. cumin seeds
1 whole onion, chopped
3 cloves garlic, little ginger
Royco
Turmeric
Curry powder
Garam masala
3 tomatoes,blended
1 ½ tsp. tomato paste
Fresh coriander, chopped
Fresh green chilies, chopped
Lemon juice from 1 lemon
½ cup of passion pulp
Salt and pepper
Rice
½ cup rice, washed
1 cup water
1 tbsp. desiccated coconut
10 ml coconut milk
Little oil
Method
Heat the oil in a large pot. Add the cumin seeds and allow them to release their aroma. Add the chopped onion and brown well.
Add the garlic and ginger puree. Cook lightly then put in all the spice ingredients. Reduce the heat and cook stirring occasionally avoiding spices from sticking to the pan. (About 2 minutes)
Add in the tomato paste, stir together until it is incorporated with the spices then pour in the tomato puree, chilies, lemon juice and passion pulp. Bring to boil and allow to simmer until sauce thickens. Finish off with the coriander.
Meanwhile, wash the fish and pat dry with absorbent paper. Season well with salt and pepper, making sure to season the cavity of the fish as well.
Shallow fry the fish lightly and drain excess oil. Place onto a piece of foil paper. Bring the edges of the foil together. Pour some of the sauce into the cavity. The rest pour on top and under the fish.
Bake in a preheated oven for about 7 minutes at 180 degrees. Switch off the oven and leave the fish in the oven.
For the rice bring the cup of water to a boil with some salt and oil. Add the rice and desiccated coconut. Stir lightly, reduce the heat, and cover. Let the rice steam covered for about 5 minutes.
Uncover, pour in the coconut milk and mix well with a fork. Set aside and keep warm.
When ready to plate, serve the rice on a clean plate, place the fish on top of the rice and then pour any extra sauce on the fish.
Serve with a lemon wedge and some freshly chopped coriander.