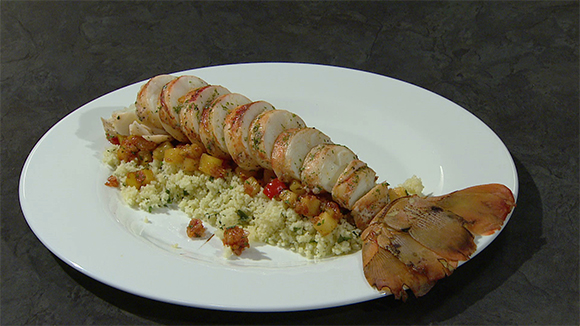 Poached Lobster with Pineapple and Bell Pepper Compote and steamed Coriander Couscous
Ideal for a special occasion, this rich and exotic sea-food dish is more than a meal, but a work of art.
Recipe serves:

1

Preparation time

15 min

Cooking time

20 min
Ingredients
Chicken stock
Cranberry Jus
Fresh cranberry pulp
1 tsp. sugar
¼ tsp fresh ginger, chopped
3-4 tbsp dry sherry
Chicken stock
1 tsp. sugar
¼ tsp fresh ginger, chopped
3-4 tbsp dry sherry
Chicken stock
1 tbsp. parsley, finely chopped
Olive oil
A drop or two of vanilla essence
Couscous
40 g ready to cook couscous
Few drops lemon juice
1 tsp. soft butter
40 ml boiled water
Salt to taste
Method
Shell, the lobster and clean it well making sure that you take out the intestinal tract.
On a piece of foil, place the lobster then add all the other ingredients. Rub into the lobster well and wrap tightly with the foil.
In a large enough pot, bring some water to a boil then reduce the heat to simmer. Put in the lobster and allow to cook for 8 – 12 minutes depending on the size of the lobster. Be careful not to overcook it otherwise it will be rubbery.
For the compote heat some oil in a large enough pan, throw in the onions and toss until browned. Add the ginger, toss lightly then add in the pineapple and the peppers.
After 1 minute, add the royco, vanilla essence and cayenne pepper. Mix well. Allow most of the liquid to evaporate then finish off with the finely chopped parsley.
Bring 40 ml of water to a boil. Take out of the heat and put in the couscous. Stir lightly and cover. Set aside for about 5 minutes.
Now put in the butter, lemon juice, and salt and stir well. Serve immediately with the compote on top. Uncover the lobster, slice into medallions and present over the compote.
Finish off with avocado cream and garnish with chives.