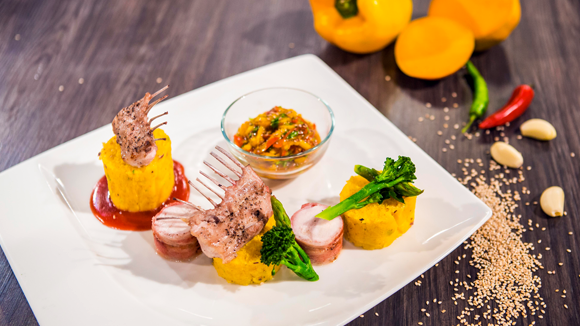 Pistachio Crusted Rabbit with Herb Polenta, Raw Mango Salsa and Cranberry
For a flavour burst try this combination of Rabbit and pistachio
Recipe serves:

1

Preparation time

min
Ingredients
Rabbit
Loin and drumstick
A pinch of Rock salt
Fresh black pepper
Roasted pistachio, crushed
Fresh thyme
2 tbsp. oil
Polenta
300ml milk
50ml cream
Half bunch of parsley
1 tbsp. butter
1 tsp Royco Mchuzi Mix
Raw Mango Salsa
1 whole raw mango, peeled and sliced
1 tsp. sweet chili sauce
Lemon grass, whole
1 tsp. tamarind sauce
2-3 drops sesame oil
Dash of Oyster sauce
1 Red bullet chili, thinly sliced
A bunch of coriander, roughly chopped
Roasted sesame seeds
A pinch of Salt to taste
Cranberry Jus
Fresh cranberry pulp
1 tsp. sugar
¼ tsp fresh ginger, chopped
3-4 tbsp dry sherry
Chicken stock
Method
Rabbit
Cut the rabbit and take out the loin and hind leg. Season well with salt and pepper
In a large enough pan, heat some oil under moderate heat. Pan sear the rabbit to seal in the juices on all slides.
Take out and coat well with the crushed pistachio and thyme mixture. Finish off in the oven until cooked to your desired doneness. Remove From the heat and keep warm.
Polenta
Meanwhile bring the milk and cream to a boil. Season with the salt and Royco Mchuzi Mix. Add in the polenta and parsley and cook to a smooth mixture. Set aside and keep warm.
Cranberry Jus
In a small pot, reduce the sherry by half under medium heat.
Add the cranberry pulp, ginger and chicken stock. Simmer until the sauce thickens.
Adjust the seasoning with salt ad little sugar.
Mango Salsa
In a large enough bowl, mix all the salsa ingredients and set aside for them to blend in.
Present the dish on a clean plate and serve immediately.